Register Warranty
Please go to URL Link : http://goo.gl/GHiR3T to install our Mobile App for warranty registration and access to more information.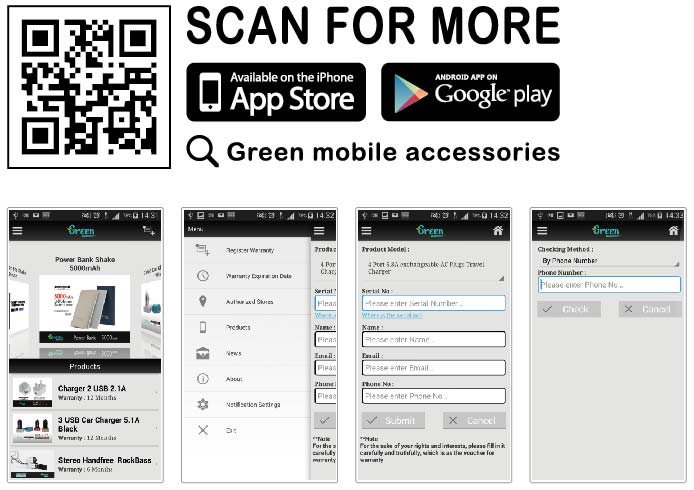 Warranty Information :
Thank you for purchasing your new Green Mobile Accessories product! In order to protect your rights and interests, kindly read through the following content and complete this warranty registration within (7) days from the date of purchase. Registration should be done at our (Mobile App). Our Warranty Policy provides free warranty services for the product within the corresponding warranty period.
*Please take note that this warranty is limited and does not apply to the following cases, which Green Mobile Accessories will provide services or repairs at an extra charge accordingly:
1. No warranty registration after purchase.
2. Warranty has expired.
3. Any products on which the serial number label has been defaced, modified or removed.
4. Cleaning of product, wear and tear, or damage under normal circumstances (such as natural loss of casing, inserting components, ageing and wear).
5. Misuse, human abuse, liquid inflow, place in an unsuitable physical, unauthorized modifications, external causes such as acts of nature, serious oxidation or rusty, mechanical damage, etc. Such condition will be determined by Green Mobile Accessories at its sole unfettered discretion.
6. Damage beyond repair caused by accident or natural disaster such as lightening strike, flood, earthquake, etc.
7. Scratches & damage to the outer surface areas and externally exposed parts.
*Green Mobile Accessories reserves the right of revise and final decision on the interpretation of the content of this warranty.
Warranty Coverage :
Power Bank - 12 Months Warranty
Power Adapter - 12 Months Warranty
USB Car Charger - 12 Months Warranty
Headset Hand Free - 6 Months Warranty
USB Cable & Data Wire - 12 Months Warranty